and other
FAMILY TREASURES
Hello!
First, I want you to meet my family---,
There's Ed, my husband for
62 years, and our two sons,
Edward 3rd, and Jesse,
our two lovely daughters-in-law,
Susan and Laurie,
and our seven grandchildren.-----and 11 great grandchildren
Now, I want to show you a few of the quilts I've made
over the last seven or eight years.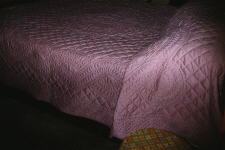 This is a "whole cloth" quilted bedspread I made for Susan. She chose the color. It was made using a stenciled muslin, queen size, quilting the design, then the blue stencil lines washed out in a cold water rinse. About 4 months to quilt.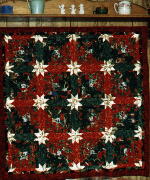 This pattern is Colorado Cabin Star. I planned it with Christmas colors, the stars are gold satin first fused with light pellon as stabilizer. It is about 45 x 45.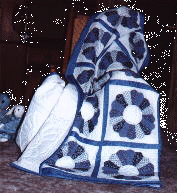 This pattern is Dresden Plate. Eleanor Jones of Louisiana pieced the "plates" and sent them to me to applique on a white on white background. She chose a bright blue for the bands and borders.
I constructed the quilt, did the hand quilting and binding, and mailed it back to her.
---

NEXT More Treasures with photos
WALL HANGINGS


---
View My Guestbook
Sign My Guestbook
Visit my genealogy pages Descendants of Jacob Miller
And you all come back again, hear?
Last update Jan 2009